Anyone got an update on Diego Maradona?  Regular readers know that I hate the Argies with a passion normally reserved for mindless football thugs.  However, when it comes to wine I try to make allowances, and it just so happens that my thuggery dissipates faster than the bubbles in a bottle of cava, once an open bottle of Argentinean wine is placed on the table.
I love the Faldeos Nevados Malbec, so I really should have tried the Bonarda from the same producer earlier than this.  Bonarda, is not, although it sounds so, the name of an Italian porn star, but an indigenous grape of the cheating football nation.  Albeit not the cheating football nation that brought you the Mano de Dios, it originated in Italy!  Enough of the football insults, what was the wine like?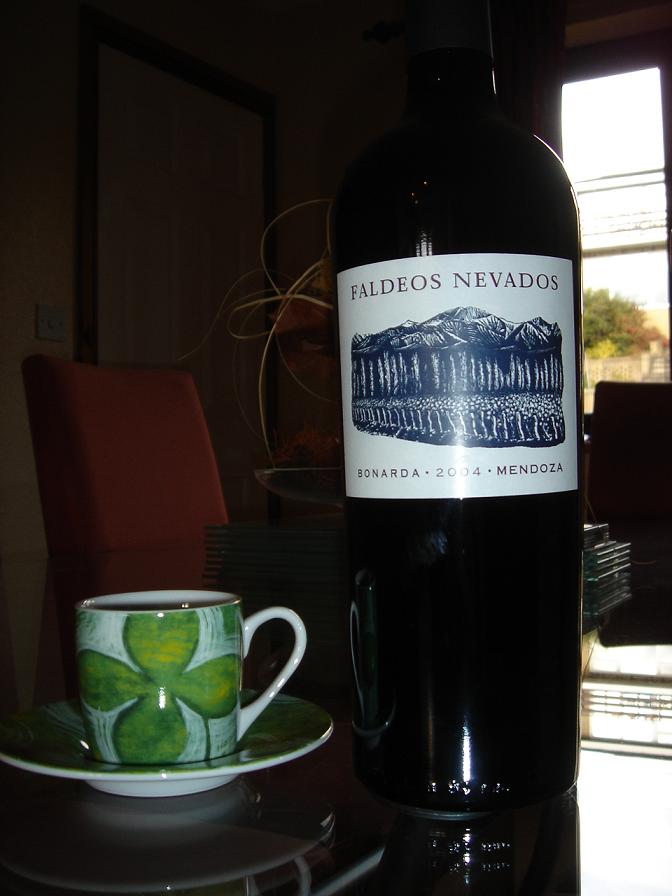 This latest stallion from the Susana Balbo stable was at first reminiscent of a Pinot Noir from NZ, with strawberry jam the prime flavour on opening.  Over time the fruits became darker and more sinister, perhaps blackcurrant, plum, black cherry.  The wine also became more complex and interesting, a soupcon of cedar and a slight smokiness making a late appearance from the subs bench.
Let's not analyse this wine too deeply though, it's not a Lafite.  I am not generally a fan of jammy wines and this one got a bit too much so towards the end.  However, a nice one for a quick quaff, or even a glass with one course.  If you are a wino like me and so much as tempted by drinking the whole bottle, you will probably do better to stick to the Malbec.  But don't let me put you off an otherwise interesting wine.
Faldeos Nevados Bonarda 2004 is available from the Wine Society for £5.95.