So I hear that Sven is in the running for my beleaguered team Manchester City.  As if crisis following crisis following crisis is not enough, we are trying to tempt the heel enhanced weather girl lover to manage our sorry club.
It's not that I dislike Eriksson for footballing reasons, it's just that the reasons he would want to join would only be financial.  He is a clever man and despite all the moanings, he was one of the most successful England managers and that followed a highly successful club career.
But we are a club in crisis and the last thing we need is a deposed Prime Minister "trophy owner" (Thaksin Shinawatra) only in it to prove he has the money (assuming he can persuade the Thai government to free his assets), employing a trophy manager only in it for the money.  What a recipe for disaster.  It will end up in bankruptcy.  Only City can, and probably will, go down this path.  Liverpool saw sense and managed to escape.  We continue in a state of permanent naivety and that's why I love and continue to support Man City – it's the bravado, the derring do and the complete naive incompetence of the whole club.  I once had a wobble and wondered if I should lapse my support.  Heinous crime I know, but David Bernstein was in charge and he was running the club with aplomb, financial discipline, modest on pitch success and a good dose of old fashioned common sense – where is the fun in that???
So tonight I decided to drown my sorrows at the local Sainsbury supermarket on Regent Road.  Only it started to rain (I am in Manchester in June) so I headed back to put my bottle of Château Tassin 2005 in the fridge for half an hour before opening.
So far my experiences of 2005 Bordeaux have been excellent persuading me that buying cheap wine in a good year is the best way to value.  This particular wine was less than £6!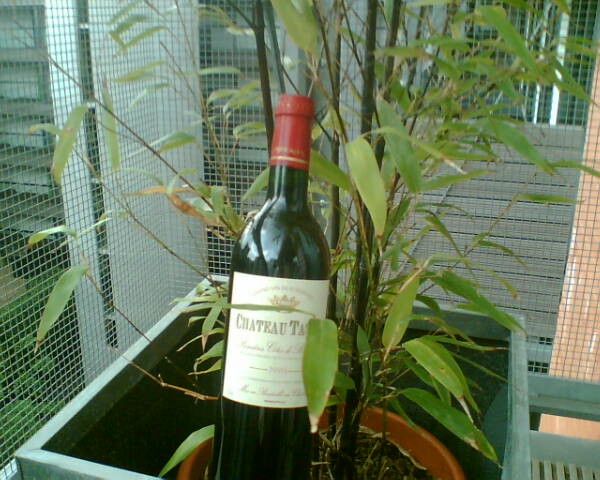 Now that is value.
And the wine was fruity, long lasting and delicious.  If you are a City fan sat on the sidelines watching with a mixture of despair, amusement and "I've seen it all before" resignation, I recommend you get down to Sainsbury and buy yourself a few bottles…
Sorry for the photo quality – taken on my ageing mobile phone.  It could be worse, if we appoint Graeme Souness I will not go to another City game until he leaves – you heard it here first!