I wanted Bresse Bleu but I just can't find it in the UK, so I settled for second best, Cambozola, which is a German Cheese available at any supermarket.
For me, eating a German Blue "Brie" is just plain wrong.  It must be like eating a Dr Oetkers Pizza (you really are having a laugh – An Italian product, made in Germany and sold in England – ha ha ha ha ha ha ha ha ha ha).  I've never tried it but surely nobody buys that marketing line?  Have you seen the TV ad?  A loving couple on a first date sat on a suspension bridge in the open air at a fully set table, eating a pizza made in Germany, approximately 1.3 miles from the nearest oven.  I haven't laughed so much since I found www.hugeurl.com – waging the war against brevity.
But sometimes we can't always get what we want, so we have to settle for second best.  In my case I can't afford a decent Barolo so I sampled a bottle of Langhe Nebbiolo de Forville Barbaresco 2005 as my second best.  After tasting the wine I guessed it was from a supermarket at about £4.99.  In fact, online, I found this wine at Majestic at a whopping £7.99.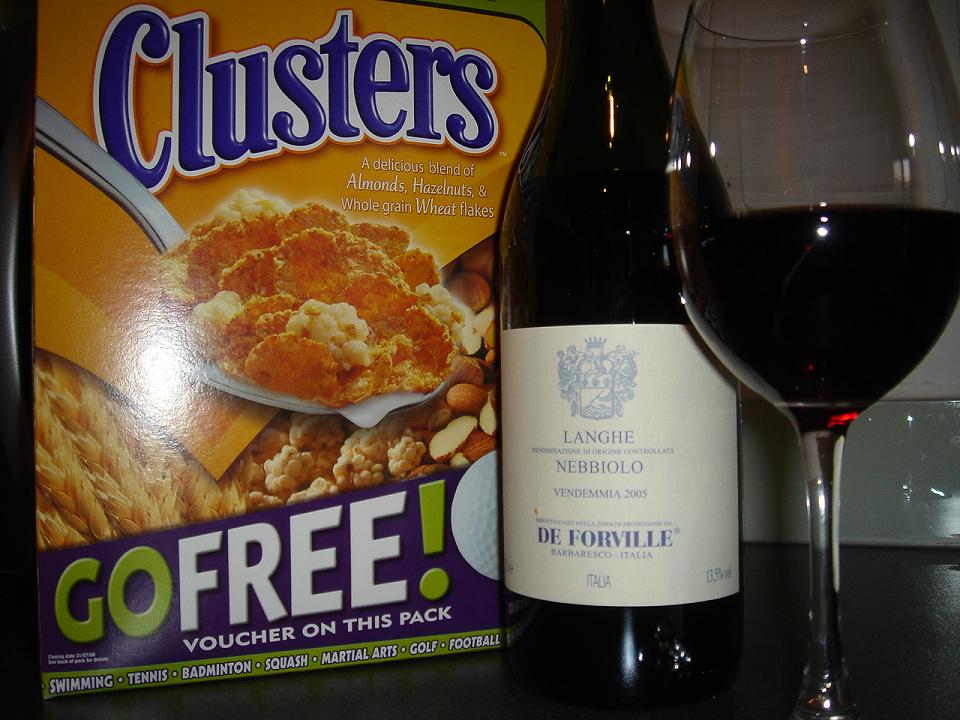 Much too overpowering for me.  I guessed at 14.5% alcohol (was 13.5%).  Strong plum and cherry flavours and much too jammy.  To me it tasted like a blockbuster new World wine which is a shame because I always think of Italy as Old World.  I tried chilling it down a bit and actually it tasted much better.  Would I try another bottle, though?  On this experience, maybe not.
Perhaps it's time I stopped eating German "French" cheese and German "Italian" Pizzas?  Perhaps it's time I stopped experimenting?
No way!  Variety is the spice of life and I am Bob, the cultural sponge of squarepantshire.  I will never stop sampling interesting wines.  Just because they don't suit my personal taste, doesn't mean that other people shouldn't try them.
That is the problem with wine ratings.  They are too personal.  Everyone should try their own range of wines and re-order the ones that suit their personal tastes.  Robert E Parker take note…
By the way, if you are wondering about HUGEURL, it is the hilarious antintheses of tinyurl.  Here is the URL it computed for my software blog (proper URL = www.workforceinabox.com):
http://www.hugeurl.com/?OWM2M2ViYjVmZmE2ZWQwY2VlZTMxMDc2MTAz
NzczNjgmMTImVm0wd2QyUXlVWGxXYTJoV1YwZG9WVll3Wkc5alJsWjBUVlpP
V0Zac2JETlhhMUpUVmpGYWMySkVUbGhoTWsweFZqQmFTMk15U2tWVWJHaG9U
VmhDVVZadGVGWmxSbGw1Vkd0c2FsSnRhRzlVVjNOM1pVWmFkR05GZEZSTlZU
VkpWbTEwYTFkSFNrZGpTRUpYVFVad1NGUlVSbUZqVmtaMFVteFNUbUY2UlRG
V1ZFb3dWakZhV0ZOcmJGSmlSMmhZV1d4b2IwMHhXbGRYYlVaclVsUkdXbGt3
WkRSVk1rcElaSHBHVjJFeVVYZFpWRVpyVTBaT2NscEhjRlJTVlhCWlZrWldh
MVV5VW5OalJtUllZbFZhY1ZscldtRmxWbVJ5VjI1a1YwMUVSa1pWYkZKRFZq
QXhkVlZ1V2xaaGExcFlXa1ZhVDJOdFNrZFRiV3hYVWpOb1dGWnRNSGRsUjBs
NFUydGthVk5GV2xSWmJHaFRWMVpXY1ZKcmRGUldiRm93V2xWb2ExWXdNVVZT
YTFwWFlrZG9jbFpxU2tabFZsWlpXa1prYUdFeGNGaFhiRnBoVkRKT2RGSnJh
R2hTYXpWeldXeG9iMWRHV25STlNHaFBVbTE0VjFSVmFHOVhSMHBJVld4c1dt
SkhhRlJXTUZwVFZqRmtkRkp0ZUZkaWEwcElWbXBKZUUxR1dsaFRhMlJxVWtW
YVYxWnFUbTlsYkZweFUydGthbUpWYnpKVlYzaDNZa2RGZWxGcmJGaFhTRUpJ
VmtSS1UxWXhaSFZVYkZKcFZqTm9XVlpYY0U5aU1rbDRWMjVTYWxKVk5YQlVW
bFpYVGtaa2NsWnRkRmhTTUZZMVZsZDRjMWR0U2toaFJsSlhUVVp3YUZwRlpF
OU9iRXAwWlVaT2FWTkZTbUZXYTFwaFZURkZlRmRzYUZSaVJuQnhWV3hrVTFs
V1VsWlhiVVpyWWtad2VGVnRkREJWTWtwSVZXcENXbFpXY0ROWmEyUkdaV3hH
Y21KR1pHbFhSVXBKVm10U1MxVXhXWGhhU0ZaVllrWktjRlpxU205bGJHUlla
VWM1YVUxcmJEUldNV2h2VjBkS1JrNVdVbFZXTTJoSVZGUkdVMVp0UmtoUFZt
UnBWbGhDU1ZacVNqUlZNV1IwVTJ0b2FGSnNTbGhVVmxwM1YwWnNObEpzWkdw
aVNFSklWbGN4YzFVd01IbGhSbXhYWWxoQ1RGcFhjekZXTVdSellVWlNhVkp1
UWxsWFZtUTBVekZzVjFWc1dsaGliVkpQVkZaYWQyVkdWblJOVldSV1RXdHdT
VlpYY0VkV01ERnhVbXRvVjFaRldreFdha3BQVWxaa2MxcEhiRmRTVm10NVZq
SjRWMWxXVVhoYVJXUlVZbXR3YUZWcVNtOVdSbEpZVGxjNVdGWnNjREJVVlZK
SFZXc3hXRlZyYUZkTmFsWlVWa2Q0YTFOR1ZuTlhiRlpYWWtad1dWWkhlR0Za
VjFKR1RsWmFVRlp0VW5CV2JHaERVMVprVlZGdFJsWk5WbXcxVld4b2MxWnNX
a1pUYkdoWFlXczFkbGxWV21GalZrcHpXa1pvVjJKclNrbFdWbVEwV1ZaWmVG
TnJXbE5XUlZVNQ==