I never look a gift horse in the mouth, Trojan or otherwise.  I never knowingly say "neigh" to a first class excuse not to spend my weekend cutting the lawn.
I've just been invited to see the Foo Fighters at Wembley on Saturday.  This will be the third time I have seen them in the last 12 months (first at Live Earth, second at the O2).  One of very few bands that can sell out two nights at Wembley, they must be doing something right.  The Foo Fighters were reborn from Nirvana after Kurt Cobain's "self inflicted shotgun wound to the head".  I became a believer quite recently which resulted in me enjoying the first hour of the O2 concert and then listening in bemusement as they excavated deep into their back catalogue.  The crowd went wild and I was left holding the spade.  I must do some revision before going this time.
It will also be an opportunity to attack another trophy restaurant (memo to self: bring change of grunge clothing) for Sunday lunch in our fair capital.  I might look up one of the places my mate Douglas has reviewed and see if I agree with his cultured palate.
For me, last year's "culture" came from a lads' trip to Puerto Banús.  On the way back I picked up this bottle from Malaga Airport for only €7.  At the time this was a bargain but, of course, with recent currency movements it is now the approximate pecuniary equivalent of a magnum of 1961 Château Pétrus (if bought in the UK or US).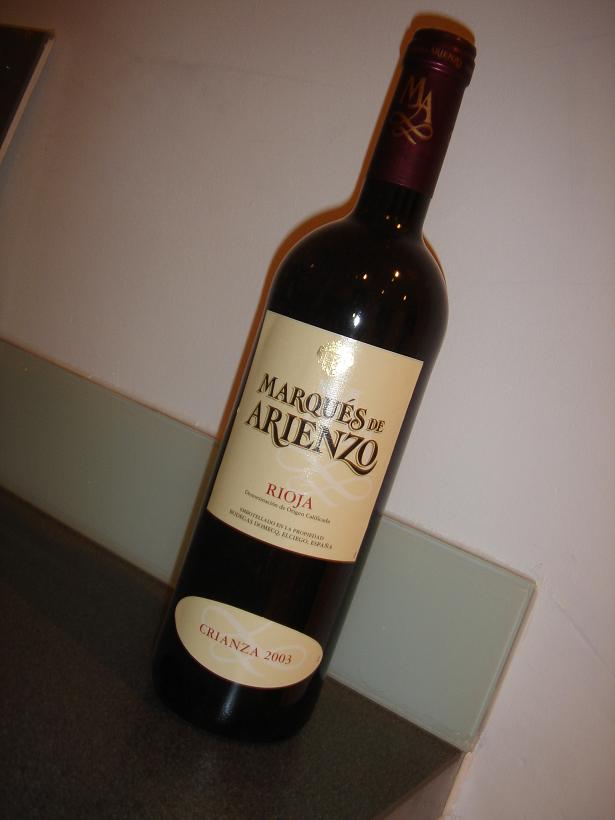 I am sure that Rob could tell me if 2003 was a good year for Rioja.  I thought this Crianza excellent.  In the background, strawberry flavoured, it had a good level of tannin and the sort of sweet acidity I associate with blackberries.  I know this because I happened to be eating said fruit when I drank it.
So maybe it tastes like blackberries soaked in tea with a strawberry sauce and just a dab of vanilla ice cream?  Perhaps it smells like teen spirit?  Or maybe I'm an idiot.