I've just placed my first order with Naked Wines.  Is this news?  Not really, I suppose, but the strange thing is the reason why.  Naked has persistently pestered me, offered free samples, discounts and special offers and I have resisted for over a year.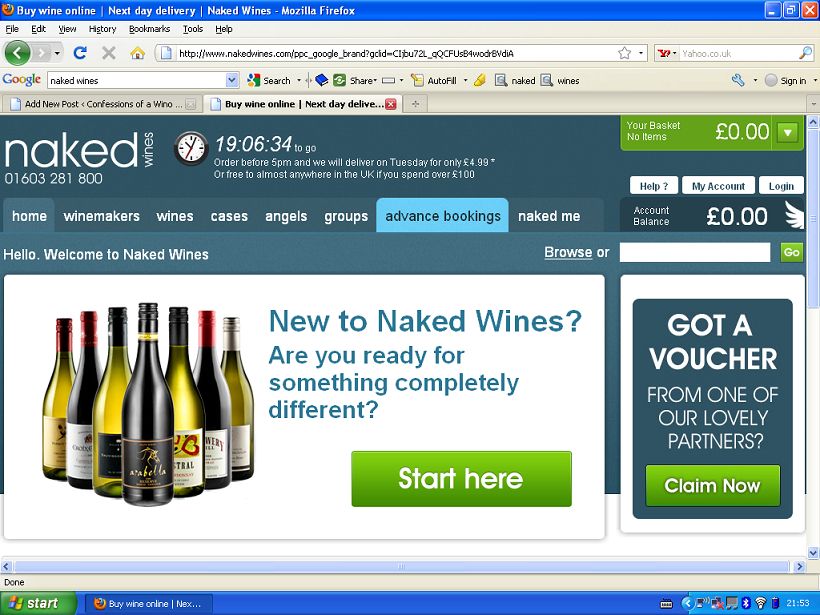 I attended EWBC 2010 and witnessed something very interesting.  Naked founder, Rowan Gormley,  (fortunately wearing clothes in front of several hundred people) standing side by side with Willi Klinger of the Austrian Wine Marketing Board, a top guy by any standard, running a mass taste-off between 11 Austrian Wines.
True to his word, Rowan had the winner, Mayer am Pfarrplatz & Rotes Haus, for sale on the Naked website by the next morning.  This wine, a Gemischter Satz (no, me neither) is made from a blend of different white grape varieties and was the representative from Vienna.  Voting was counted using the age old, and unerringly accurate method of seeing which got the loudest cheer.  Having said that, this wine, representing Vienna, was a clear winner and my favourite.
So why have I not ordered any wine from Naked before?  I am afraid it is Mr Gormley's history.  He founded Virgin Wines and successfully sold out to Direct Wines before departing in a spat.  I still contribute £20 per month to Virgin Wines but I use it mainly to buy well known branded wines (like Champagne) which can be very keenly priced once the "wine interest", the £20 per quarter that is added to my account, is calculated.
But, with a few notable exceptions, I have struggled to find quality wines at the more random end of the Virgin list.  However, I think Rowan has found a new way of buying wine.  A sort of combination of crowd feedback, but not necessarily just crowd pleasing wines.  There are a number of small producers, some of whom I know personally and have tasted their wines, who have found a route to market via Naked.
So full, marks to Naked so far.  The website is easy to use, the business model interesting, and the social nature of the business is not just a front.  I know that Naked has investors, and ultimately is a business that must generate profits, but Mr Gormley is taking the Virgin business model of low cost, high customer satisfaction, and stretching the altruism to other stakeholders, notably the suppliers.  I hope it works.
As for the wines?  Well, I chose a couple that I know, and a couple of random selections that looked up my street.  I'll let you know how they pan out over the next few weeks.
And EWBC?  I learnt a lot about Austrian wines – most notably that Grüner Veltliner is only the start, and can even get boring.  There are so many more charismatic wines, including unusual and alluring reds.  I wish they were more readily available in the UK.