Just down the road from the entrance to the Ritz on Arlington St, just off Piccadilly, you will find Le Caprice, a favourite haunt of the stars for several decades.  This part of London is over-endowed with decent restaurants.  To quaint northerners like me this seems unfair.
The Wolseley is just round the corner, as is Langan's Brasserie, Claridge's, Scott's of Mayfair, and Fortnum & Mason.  Meanwhile in the nearby West End, The Ivy, sister to Le Caprice, is undoubtedly one of the best restos in London despite the nouvellement célèbrés and the nouveaux riche who visit only to be seen rather than to enjoy food and wine.  So was Le Caprice, part of the group that owns The Ivy, as good as its sibling?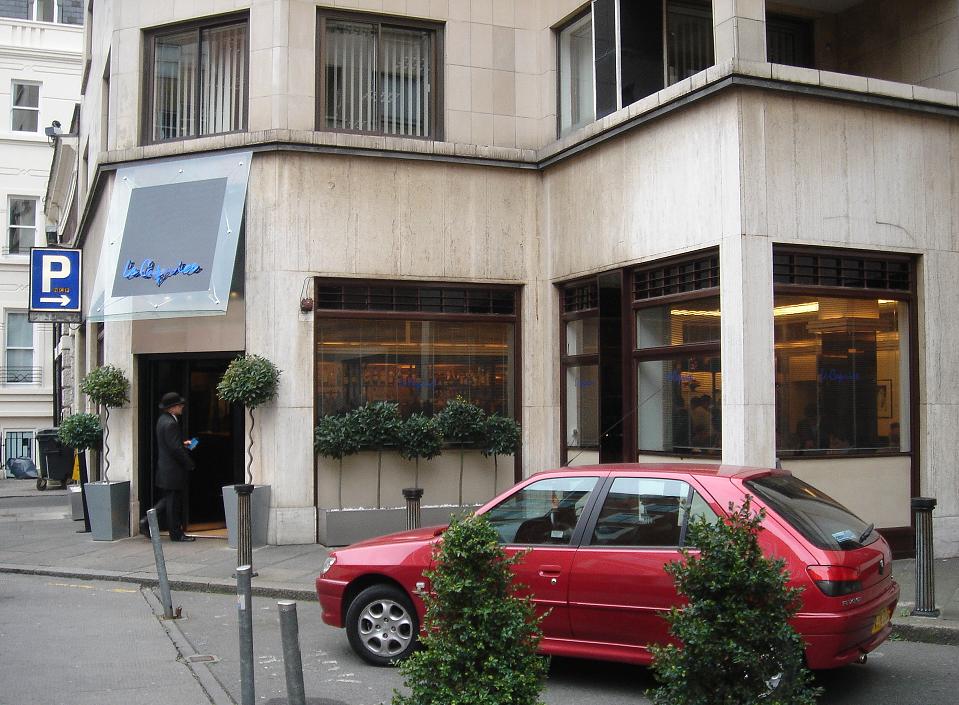 Well, first of all, unlike the Ivy, I saw a famous person (not that I was looking) and maybe this shows my age again, but it was on our way in, and he was on a prominent table as we were shown to ours.  It was TV political journalist and former editor of the Sunday Times, Andrew Neil.  Not surprisingly, his Who's Who entry lists "dining out in London…" as one of his pastimes.  As I wandered by, it crossed my mind that my admiration for his political TV interviews, great though it was, was marginally less than my admiration for his choice of dining companion.
It being Sunday, I ordered eggs Benedict to start.  The poached egg was as perfectly cooked as any I had tasted.  The hollandaise sauce was frothy and piquant.  It would have been a good start, but where was my wine?  I tapped my fingers impatiently on the table whilst looking for waiting staff who were rarer than a steak tartare.
Finally my wine arrived.  It was a Mercurey 1er Cru 2002 Cuveé Carline, Domaine Lorenzon, at £58, not the cheapest wine on the list.  Strawberry and blackcurrant jam, plenty of fruits of the forest.  The wine went surprisingly well with the eggs Benedict but even better with my main course of lambs' kidneys roasted over cauliflower and bacon.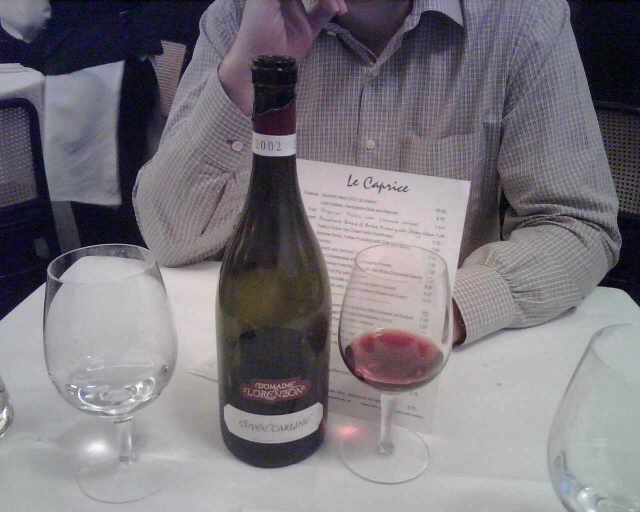 I found it for sale on the web in Germany for about 32 euro and on the wine lists of many good quality restos in UK and Ireland at a similar price to Le Caprice.  The markup looks to be about 250% which is high but not a total rip-off and in line with restos of a similar genre.  Which is the problem really.  Le Caprice, The Ivy, The Wolseley and the like don't really care about wine.  The stemware is bland and abnormal, often the wine glasses are the same as the water glasses causing confusion.  The same shaped wine glass is used no matter which wine you order.  Which is a shame.  The wine list is OK, fairly well thought out, but no superlatives leapt out of my fuddled mind. 
Food is another matter though, and the cheese course was excellent.  Little Wallop (vine leaf wrapped soft cheese), Harbourne Blue, and Rachel (mountain like hard cheese) were all superb and, I was advised, English.  The Muscat de Beaumes de Venise (2005 Domaine de Durban) that came along side was in a proper glass and politely handed me a posy of parma violets doused in clear honey.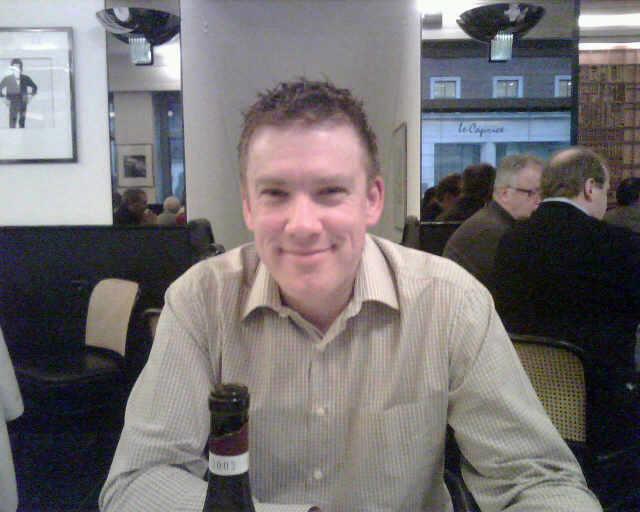 My overall impression of Le Caprice was good.  The ambience is, understandably, similar to The Ivy with professional staff, clean tablecloths and well worn (in a nice way) dodgy old chairs.  Lots of photos on the walls of cool people like the Rolling Stones succeed in dating the place in the same way as the oil paintings do at Langans.
Le Caprice is a catalogue of contradictions.  Modern yet traditional, professional yet relaxed, French yet English, quiet yet boisterous, clean yet the perfect location for a dirty liaison.
Two things that grate a little on a £185 bill for Sunday lunch is a £2 per head cover charge (it's not 1946 any more!) and 12.5% service charge (albeit "optional").
It comes a close second to the The Ivy which in turn is just behind the Wolseley as the best resto in London.  But none of them are the best wine venues.
Le Caprice, Arlington House, Arlington St, London SW1A 1RJ  T:  +44 (0)207 629 2239.  W:  www.le-caprice.co.uk.